Well that time of year is upon us again.
This time I feel even less prepared and in the "
Christmas
mood". Not sure if it's because we have been so slammed with stuff at home or the 50+ degree weather we are facing here in Nashville.
Irregardless the day has come and I can't wait. Since having a nephew and a
niece
I feel better again about the Christmas holiday. It's great to see the little ones get excited. Oh yeah and threaten them for the last month to behave or no gifts from Santa. If only it worked for the hubby.
So while I won't reveal what I've bought the family I'll mention some "wish" list of my own. I tend to be pleased with anything I receive so if none of these are wrapped pretty underneath the tree I find myself indulging in the "After" Christmas sales.
The Peaceful Progression Alarm Clock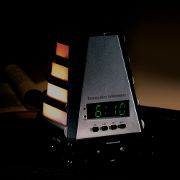 I find it nearly impossible to get up every morning without hitting the snooze button, wonder if this would work?
Luxe

Link Purse Holder
Can it be? A solution to not putting my purse on the
floor
. And it's cute!
Tree Card Holder
As the years go by the amount of
Christmas
cards increases and I would love this so we can display them all.
Elise Bedding Duvet Cover
I've been talking about one forever, perhaps Santa overheard. This is one of my favorite.
Wall Mounted Magnifying Mirror
On our honeymoon every hotel bathroom had one of these. Reminded me of my days traveling with Coke & staying at
Crowne
Plazas.