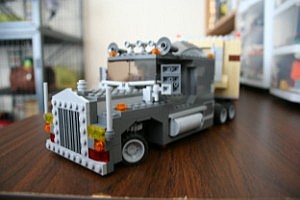 Now that Stella's 1st birthday has been shared I'll begin my discussion about her 2nd birtday party.
When we found out Stella was a little girl I was beyond pumped about all the girly parties I could have. My little Pony, Princess parties, Little Ballerina....then she arrived and 13 months later she fell in love with...Trucks....as in SEMI TRUCKS.
She squeals when she spots them on the road and may have thrown a tantrum or two when she wasn't taken to see them in parking lots. At first I tried to entertain a truck party, pink trucks of coarse, but I'm thinking maybe I should stick with a theme, children's theme that is.
So bring in Strawberry Shortcake...Oh the days I loved her many moons ago. It was almost set in stone, aka purchased party supplies, when I realized my beloved Strawberry went from this:
To this:
So not 2 year old appropriate, right???...And to be honest not 30's something appropriate either...
So I either scour the world for vintage Strawberry or move on....Do you think Rainbow Bright was modernized???